ABOUT US

University of Miami Child Protection Team Summary The Child Protection Team (CPT) was established within the University of Miami School of Medicine, Department of Pediatrics in January 1980 to assist DCF in the detection and evaluation of suspected child abuse. The CPT mission is threefold: (1) to enhance support services for abused and neglected children, (2) to increase public and professional
awareness of child abuse and neglect, and (3) to promote prevention of child abuse and neglect. This interdisciplinary team involves pediatricians, nurses, caseworkers, and psychologists who collaborate
in assessment of children and families referred by DCF due to allegations of child abuse and neglect. With the establishment of the CPT Assessment Center, it is estimated that CPT will serve and additional 1440 children per year. Within 72 hours after removal from their homes due to suspected abuse or neglect, children ages birth to 18 years are provided medical and psychological screenings to determine appropriate and specific placement recommendations, and to identify signs of cognitive, emotional, and behavioral deficits that may require further assessment and mental health intervention.

CPT FACTS PROJECT (Formally the VOCA Project)
In 1997, CPT was awarded grant money from the Victims of Crime Assistance (VOCA) Program through the State Attorney General's Office to provide free services to child victims of abuse. This grant was renewed in 1998-1999 to provide services for victims of both Dade and Monroe counties. Services funded by this grant include:

Specialized abuse interviews, psychosocial evaluations, and psychological evaluations for children ages 13-18 who are victims of physical or sexual abuse perpetrated by a non-caretaker or another minor and their non-perpetrating caregivers.
Individual or play therapy for child victims, ages 3-18 who are victims of physical or sexual abuse, witnesses of domestic violence, and/or those who have lost a family member to homicide.
Parent training is provided for non-perpetrating care assist them in understanding and responding to the child's emotional and behavioral responses to abuse as well as helping them cope with the victimization of their child.
Group therapy for children, ages 6-18, which have physically or sexually abused or witnessed domestic violence.
Group therapy for foster parents and relative placements to assist them in facilitating the child's adjustment to placement as well as understanding and responding to the child's needs.
Psychological assessments to identify needs of children who have been removed from their homes due to an allegation of abuse or neglect and placed in relative care.
Psychosocial and/or psychological evaluations to assess the appropriateness of the child's relatives as a possible placement.
CPT FACTS: staff does not provide psychological evaluations and individual therapy in Monroe County. Professionals throughout the Keys who provide contractual services for CPT FACTS provide these services. Group therapy is not available in Monroe County at this time.
FACTS Treatment Goals
Goals for the CPT FACTS treatment program include:

To provide mental health counseling immediately after the child as been referred due to allegations of abuse or neglect.
To reduce the emotional and behavioral problems exhibited by the child.
To facilitate children's adjustment to placement.
To educate non-perpetrating caregivers (e.g., foster parent, parents if perpetrator is non-caregiver, residential placement staff) about strategies for facilitating the child's adjustment to the home environment following the traumatic event, and effective child behavior management techniques.
Team Services
Medical Evaluation - An examination of a child performed by the team physician or
ARNP to determine if the child has been physically abused or neglected; and, if so, the
nature and cause of the child's condition.

Nursing Assessment - An appraisal of a child in regard to their general state of health,
nutrition, and psychosocial status and described in written format in the case file.

Psychosocial Assessment - Formal interview and assessment of a child/family to determine
current functioning and needs. Includes use of a formal assessment protocol and
communicated in the form of a written report. Objective is to provide assessment of
child/family's strengths, problems, and service needs that address emotional, behavioral,
and social functioning.

Specialized Interview - Structured interview to obtain information regarding the specific
incident of alleged child abuse.

Multi-Agency Staffing - A meeting of three or more disciplines to problem-solve issues
related to a particular case in order to advocate for the child or children and meet the
needs of the family.

Expert Testimony - In court testimony by a CPT member.
Psychological Evaluation - Formal evaluation of the child/family by the team psychologist
resulting in a written report. Includes both physical and sexual abuse cases. Common
referral questions include:
a) What happened?
b) Recommendations regarding visitations
c) Recommendations regarding placement
d) Psychological adjustment of the child
e) Assessment of parent-child interaction
f) Services needed
g) Appropriateness of child as a witness in legal proceedings
[ Top ]
Medical Director:

Walter E. Lambert, M.D.

Clinical Director:

Susan K. Dandes, Ph.D.

Program Administrator:

Dianne Arbizu, MBA, MS

Team Physician:

ARNP:

x

Nurse Liaison:

Rita Doval

Team Coordinator:

Maryella Suarez

15321 South Dixie Highway
Suite 201
Miami, Florida 33157
Phone: (305) 255-5584
Fax: (305) 255-5767

Case Coordinator:

Elizabeth Logan

175 Wrenn Street
Tavernier, Florida 33070
Phone: (305) 853-3244
Fax: (305) 853-3530

[ Top ]
PROGRAMS
Crisis Intake Unit:
Treatment Director: Barbara Holt, L.M.H.C.
This unit is responsible for intakes, providing crisis counseling to adults and
children, and assisting the nurse practitioner in forensic sexual abuse medical
examinations for adults and children.

Sexual Assault Counseling Unit:
Counseling Unit Supervisor: Mandy Wells, L.M.H.C.
This unit provides individual, group, and family counseling to children and their
families, when there has been an allegation of sexual abuse.

OUR House:
Program Development Specialist: Shannon Rhodes, M.S.
This unit provides supervised visitation to children and their families. Referrals to this unit are made through the Department of Children and Families, the family and/or dependency courts.
TRAINING
The Team provides ongoing training to community organizations regarding child abuse and neglect prevention. [ Top ]
DIRECTIONS
Coming from the North: Take I-95 South to 836 West and exit NW 14 Street, take a right at traffic light and The Professional Arts Building is at your right. Parking is immediately after passing the building.
Coming from the South: Take 826 North to 836 East, pass 17th Avenue Toll Plaza to Civic Center exit. Follow curve bridge, after bridge take a right and then an immediate left at the traffic light. Go straight and pass 12th Avenue and the Professional Arts Building is at your right. Parking is immediately after passing the building.
Coming from US1: Take I-95 North to 836 West and exit NW 12th Avenue, go to North to 14 Street and take a right. The Professional Arts Building is at your right. Parking is immediately after passing the
building.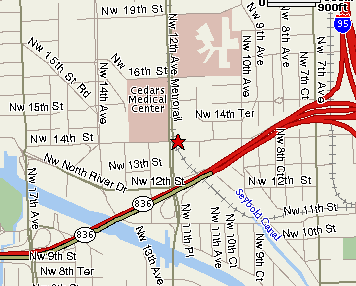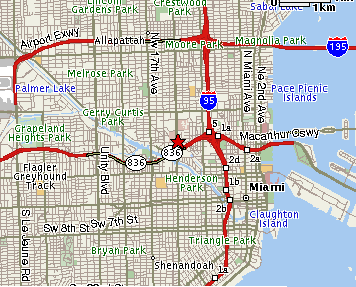 [ Top ]
---
© Copyright 2000-2001 Abusenet.org. All Rights Reserved.
Webmaster: Unsolicited Mail is never sent from this site

# # # # # # #